Our People Are Our Promise
Meet the Team Who Powers HomeRite
At HomeRite, our people are our promise. This means that more than any billboard, tagline, or advertisement, it is our people who build our brand and help us accomplish our mission to serve our customers. We want to shine a spotlight on a few of the familiar faces at HomeRite that our customers may interface with when they work with us. Keep reading to learn about the experience and passion that fuels Brittni, Andy, and Jared!
Meet Andy Matter, President and Owner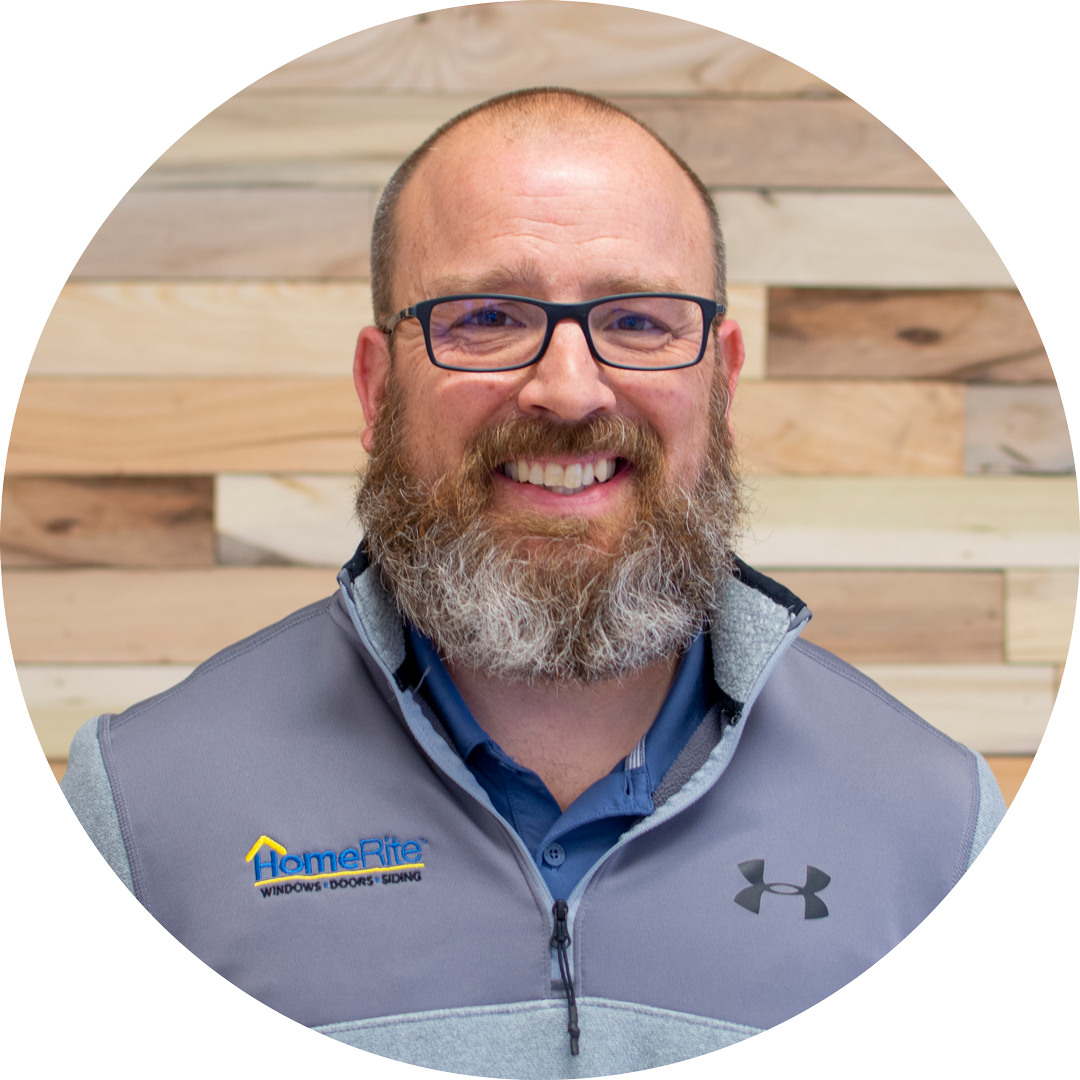 Q: Tell us about yourself and your role at HomeRite.
A: I'm the President and Owner of HomeRite. I started with the company in 2008, when it was under different ownership, and I purchased the company in 2011. My job is to make sure we're building for the future and abiding by our guiding principles of honesty, integrity, and professionalism.
Q: When it comes to interfacing with the customers, how do you help deliver an exceptional experience for them?
A: We try to build systems and processes that allow our team to connect with the customer and walk with them step by step through the entire process. Our project managers are only a phone call, text, or email away if there are any questions. We keep the customer up to speed every step of the way, so they know what to expect as we move through the process with them.
Q: What led you into this industry?
A: I literally grew up in the industry. Growing up, my best friend's dad was the president of the local window company, where most of the folks in town worked. We spent hours and hours… and hours wandering around the manufacturing plant and the offices, so when I reached legal working age the destination seemed predetermined.
I've done just about everything there is to do regarding window and door manufacturing. When I graduated from Shippensburg, I moved to the sales side of the business. It was at that point that I started to view my role with the company differently. I realized that every window and door I sold was helping to keep folks back in my hometown employed and able to put food on the table. After about 8 years of living out of a suitcase, I decided to take a more integral role at HomeRite which was just starting. It really was the best of both worlds, I was still able to sell products that would help my hometown AND I would be home every night with my growing family.
Q: What makes HomeRite different from other businesses?
A: I get asked this question more than any other and my answer is always the same…everything. We pride ourselves on being different than all the other window and door companies in the area. To start, we're the only company that is actually built on years of industry experience in sales, manufacturing, and installation. We're passionate about windows and doors, not advertising and marketing.
From the time a client calls to schedule an appointment we're different. We don't use high pressure selling tactics, as we understand the financial weight of this project and believe this is not a decision that should be made while under pressure from a stranger. Once the contract has been executed, our team walks each client through every step of the project. We follow up after the installation to make sure everything went according to plan. We also follow up after one year to make sure everything is functioning as it should. So, I know it sounds cliché, but we really are different from the time the phone rings through the warranty phase of the project. I'm sure if you spent a few minutes reading our reviews, you'll find quickly that we are not like your ordinary contractor.
– – – – – – – – – – – – – – – – – – – –
Meet Kyle Barder, Operations Manager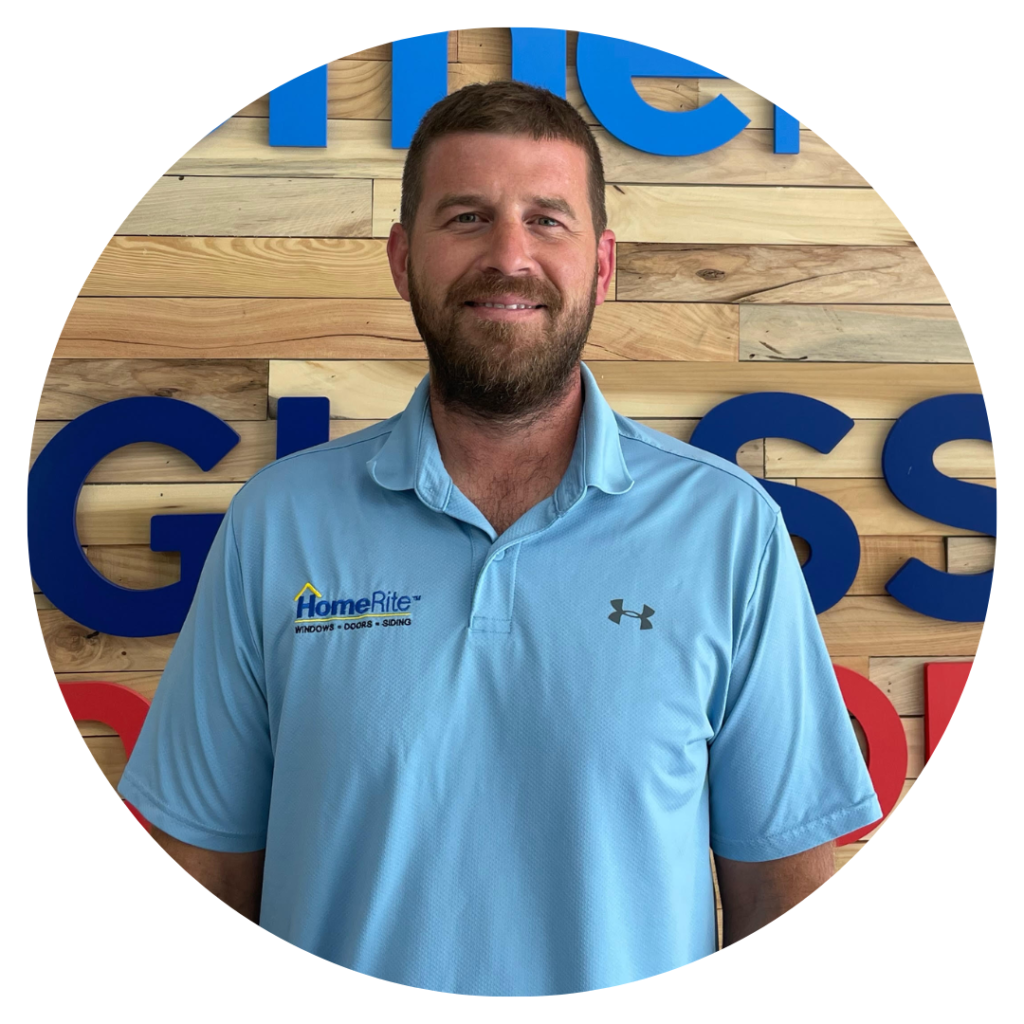 Q: Tell us about yourself and your role at HomeRite.
A: I have been with HomeRite for 13 years, with 12 of those years being Co-Owner. As the Operations Manager, I measure every job and collect a detailed materials list as well as a list of any extra work that needs to be done on a project. I am also the main "fire fighter" which means that should anything go wrong, I am first in line to find solutions and ensure customer satisfaction. My role is unique in that I may be the only one on the team who interacts with EVERY customer we have.
Q: What's your approach to customer service?
A: My role is high-touch and high-interaction. Because I interface with every customer, I make sure I approach every customer relationship with genuine care and passion for their unique project. I also have enough technical knowledge that I can answer any customer questions to make them feel that they are in good hands with HomeRite.
Q: How did you get into the window and door industry?
A: I didn't really choose this industry; it chose me! I was in between jobs and looking for something different when Andy (owner) asked if I wanted to come aboard. Thirteen years later, here we are. It's my passion and my calling. I am able to help a lot of people in my role.
Q: What makes HomeRite different from other businesses?
A: Our staff is what makes us different from any other company. Every single person on our team views their role as much more than a job. We exist to serve the community and help homeowners fall in love with spaces where they spend so much of their lives. We genuinely care about our work and customers which is demonstrated in our loyalty and longevity with HomeRite. 
– – – – – – – – – – – – – – – – – – – –
Meet Jared Troutman, Project Manager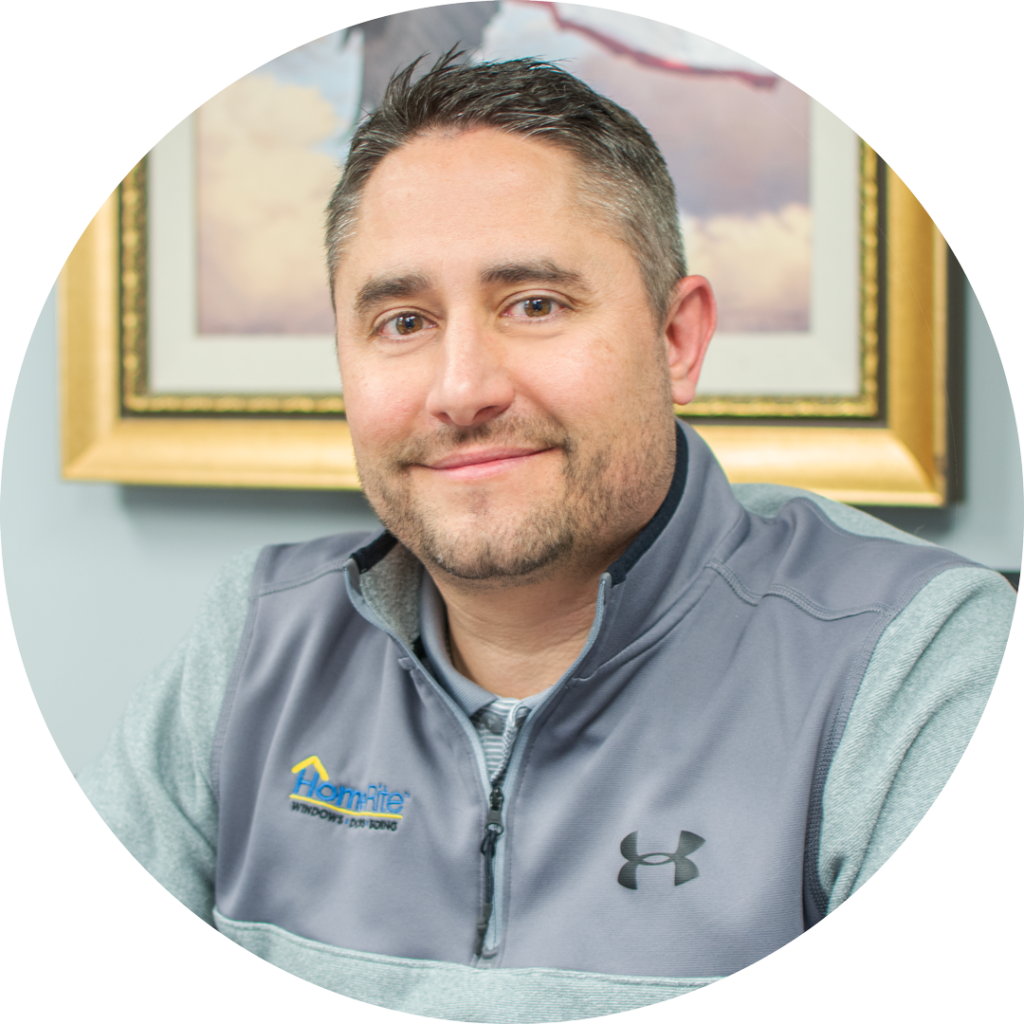 Q: Tell us about yourself and your role at HomeRite.
A: I have been with HomeRite for almost 11 years where I serve as the Project Manager. In this role, I field most of the project inquiries which allows me to ensure the customer is fully satisfied with their purchase from beginning to end.
When interfacing with customers, I'm usually the first person they meet at HomeRite. So it's a big responsibility and an exciting opportunity to embody the HomeRite core values from our very first interaction.
First impressions are important, so I am very careful to foremost listen to the customer to understand what fits their budget and what's most important to them. I want to provide creative solutions that deliver on aesthetics, function, and price. I've found that through listening and learning, I can build confidence and trust with the customer that lets them know they are going with the "right company."
Q: How did you get into the window and door industry?
A: I started working in the window and door industry through an internship I had while I attended Bloomsburg University. From this experience, I knew I wanted to eventually get into a role where I could more directly interface with the customer. Learning the products whether in the plant or out in the field, was an important first step. After six years of growing in the industry, I had the opportunity to work at HomeRite and I jumped on it! I started out by doing service work and eventually this led to a role in project management. I've been with HomeRite for almost 11 years now and it has been a wonderful working environment. In total, I have been selling and servicing windows and doors for almost 17 years since I left college. It's what I live, breathe, and think every day!
Q: What makes you passionate about HomeRite?
A: What makes HomeRite different is really a lot of things, but I'll hit on what I feel is the most important point. We treat every customer as our most important customer. Whether you need a small part or have a large job, we will make sure the project is completed while exceeding expectations. I have replaced ripped screens that were no fault of our own in houses that have windows we did 15 years ago. That level of added service earns us exceptional referrals which in turn grows our business. As I always say, the reward for good work is more work and we work hard for that privilege!
– – – – – – – – – – – – – – – – – – – –
Meet Brittni Orfanelli, Project Success Coordinator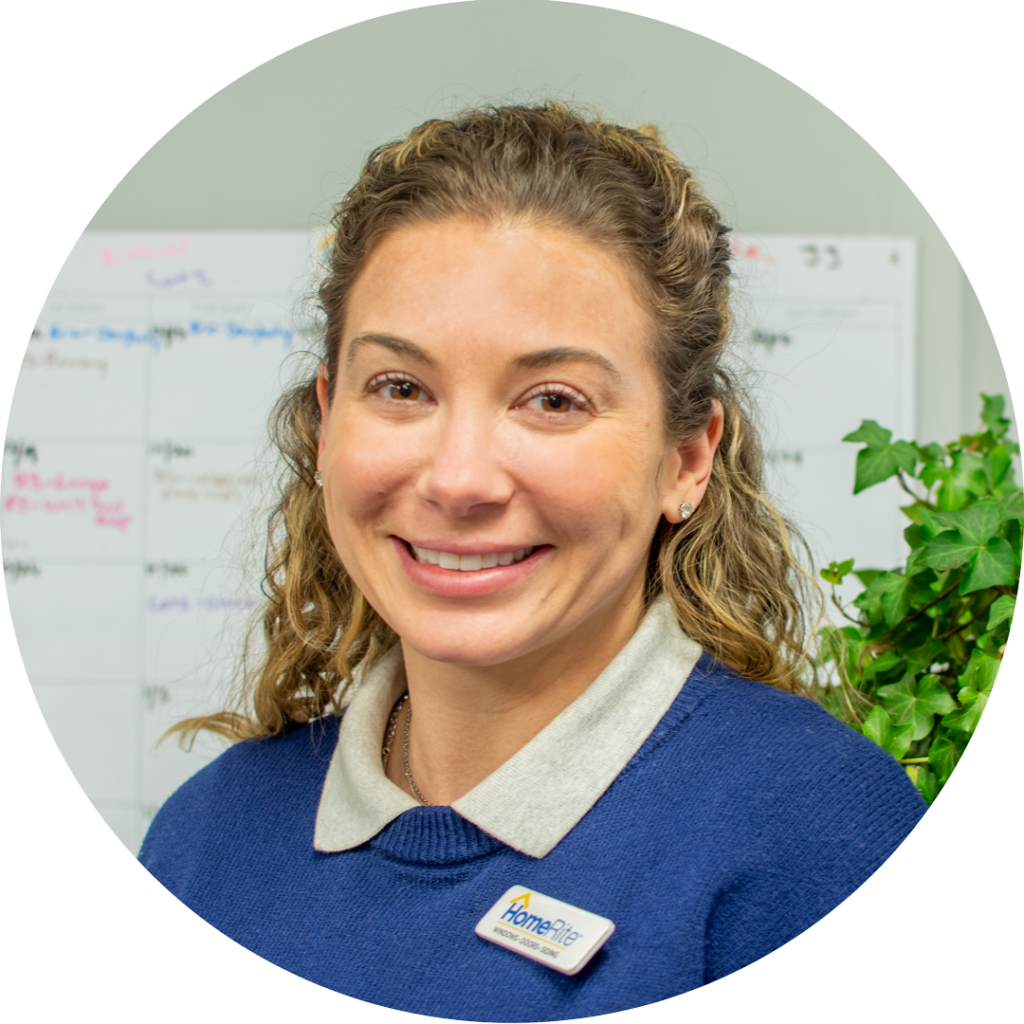 Q: Tell us about yourself and your role at HomeRite.
A: I have been with HomeRite about two years. My title is Project Success Coordinator. I am usually the first and last person the customer interfaces with. My role is to be by their side from the beginning of the home project until the very end. Whether it is stopping by at the end of installation or providing a phone call, my goal is to have every loose end neatly tied into a bow by the end of the project.
Q: What's your approach to customer service?
A: I treat every customer the same way I would treat a family member or a friend. Good communication and customer service is the core of my role at HomeRite. When you work with HomeRite you essentially have a personal assistant that comes with the project…me! All my customers have my email address as well as my cell phone where I will quickly answer any questions you may have. Keeping you informed throughout your project and making sure everything is just the way you want it is what I do.
Q: How did you get into the window and door industry?
A: I was in real estate for many years. When my daughter reached the age where sports and activities filled our weekends, I knew I needed a change. People is what I loved most about real estate and I knew I needed a job where I could meet people and help them in some way. With HomeRite, I am always meeting new people and their satisfaction at the end of the job brings me joy.
Q: What makes HomeRite different from other businesses?
A: HomeRite is a local, family-owned business and when you work with HomeRite it is evident. The values the owners share shine through the business. We are up-front and honest, there are no sales pitches, and no gimmicks. Customers are what HomeRite focuses on the most and so it only makes sense that customers are how we grow our business. A large chunk of our business is repeat customers and customer referrals. I feel this says a lot. This is the outcome of treating the customers like family and not like a dollar sign. We consistently provide quality products, fair prices, and an unbeatable warranty. And that consistency is key. I used HomeRite to install my own windows!
Now that you feel more familiar with some of our staff at HomeRite, we hope you'll give us a call! It's likely the person answering on the other end will be one of these three, or another friendly member of our team who will be excited to learn about your window and door needs. We'd love to hear from you today! Call us at 717-558-0502.